We are based in Bayswater, Bloemfontein
in South Africa
The clinic was established in November 1989 by Dr. Rochelle De Villiers. With the support of his wife, Lizette, and many loyal clients, the practice has grown over the past 30 years into a successful multi-vet practice. Their son Dr. Jacques De Villiers joined the practice in 2013.
Bayswater Animal Clinic strives to deliver a friendly and quality service. We also provide a wide range of services and quality products for all our clients.
We are empathetic as we are loving pet owners ourselves!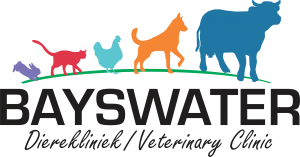 B.Sc.Agric.(Hons) B.VSc.
Veterinarian
Dr. Rochelle obtained a B.Sc Agric at the University of the Free State, a B.Sc Agric Hons at the University of Pretoria and his B.VSc. at Onderstepoort in 1984. His profound employment history includes the State Veterinary Services in Bloemfontein, Country Bird Poultry Farm and Early Bird Poultry Farm before he opened his own private practice in 1989, which is now more than 30 years old.
DR JACQUES DE VILLIERS B.Sc.(Hons)B.VSc.
Veterinarian
Dr. Jacques obtained a honours in Biochemistry at University of Pretoria and went on to obtain his B.VSc at Onderstepoort in 2013. He joined his father's practice in December 2013, and together they strive to develop the practice and to maintain high standards in delivering friendly, professional service.
DR SHANNON KRUGER
B.VSc.
Veterinarian
Dr Shannon Kruger obtained her BVSc at Onderstepoort in 2018. During 2019 she was employed by state veterinary services as a ccs vet in Bloemfontein. After locuming for a few months, Dr Shannon joined our team in April 2020. She has a passion for helping animals and has a comfortable extroverted repport with owners.
KARIN VAN DEVENTER
Admin Manager
She joined our team in 2017 and oversees the administration side of the practice. She makes sure everything runs as efficiently as possible, allowing the veterinarians to focus solely on practicing medicine.
KARUME HANEKOM
Receptionist
The front desk is manned with dedication and efficiency by our friendly receptionist,  who joined our team in 2018. With her calm and reassuring love, she gives excellent advice to clients about pet food, basic first aid and general pet care.